Prince not offended by PM's snub
Posted: Thursday, December 5, 2002
From Earl Manmohan in Scarborough Tobago, Express TT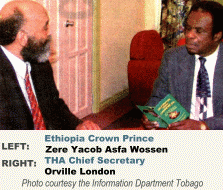 Crown Prince of Ethiopia, Zere Yocob Asfa Wossen, said yesterday that Prime Minister Patrick Manning is entitled to his views on the situation in the African country.

He arrived in Tobago at 1.10 p.m. with his wife at the start of a four-day stay as guest of the 12 Tribes of Israel and the Ethiopian Peace Foundation.

A large group of local followers dressed in red, yellow and green and led - by Overseer of the 12 Tribes of Israel, Aldwin McPhee - were at Crown Point Airport to greet him.

In an interview with the Express Tobago Bureau at the airport, the Crown Prince, who was asked whether he was hurt or concerned in any way by the Prime Minister's refusal to accept him replied: "Mr Manning is entitled to his own views, I am not hurt or concerned about it."

He said he was not taken aback by this opportunity and, contrary to what Manning had said, he and his wife would be returning to Ethiopia at the end of his current tour of the western world. He leaves Trinidad on Tuesday for the United States.

Wossen said he was on a holiday trip to this region and intended to enjoy his four-day stay in Tobago, taking in the "beautiful sites" and meeting the people.

Following the brief reception at the airport, he was taken directly to Calder Hall where he paid a courtesy call on Chief Secretary Orville London. A much larger crowd of followers were on hand to greet him as he emerged from the building.

Pressed by other reporters for his feelings on Manning's statement, the African visitor replied: "I would prefer you make no mention of this again."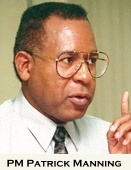 Manning failed to show up to meet him at the St Clement's Anglican Church in San Fernando last week and later explained that the monarchy had been abolished in Ethiopia, and the Crown Prince was not recognised by his own government.

He added that the Crown Prince was not allowed to go to Ethiopia and if he received and official recognition here, Trinidad and Tobago ran the risk of offending a friendly Government in Eithopia.

However, the Crown Prince has met with President Arthur NR Robinson, the Mayors of Port of Spain and Chaguanas, and yesterday with the THA Chief Secretary.

Printer friendly version

Send page by E-Mail
Homepage | Reasonings | Features | Forums | Interactive